VHS tapes were never perfect. They often broke, got stuck in the VCR, or didn't want to rewind. Whatever the problem is, it usually happens the the tape you care most about. If you've ever had a VHS tape that wouldn't play, rewind, or fast forward, you might be able to fix it by manually rewinding your VHS tape. You will need to fix this issue if you ever wanted to do a VHS to DVD transfer, or even watch the tape again. Tapes usually get stuck when one of the reels gets caught on one of the cassette mechanisms, or there is a crease or foreign object blockage in the tape itself. Here's how to easily unwind a VHS tape.
The first step is to try to manually rewind the cassette. You may notice that the white reels will not turn in either direction. To accomplish this, you'll need to press something thin like a paper click or pencil into the socket in the back of the VHS tape. There is a small button here that when pressed, will unlock the reels so that they can be turned in either direction. Try turning the reels a few times with either your fingers, or using scissors like I do. Hopefully, the reels will begin to turn and with any luck you'll be able to see what's causing the blockage.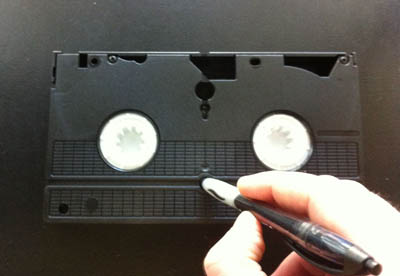 If you're still unable to turn the reels after pressing the button on the back of the tape, you're likely going to have to open the tape up to take a look inside. This is usually a case of a broken internal mechanism, or foreign object blockage. Unscrew the screws in the back of the cassette to separate the two shells. Check here for a guide on how to do this. Once you separate the tape, try to locate the source of the problem by turning the reels, or lifting them out and inspecting them. If you are experiencing a broken internal mechanism, it's highly recommended you transfer the tape to a new cassette by following the VHS repair guide.