VHS Tape Repair Guide
Video for VHS Repair
This video guide will detail all the steps for repairing your VHS tape:

For repairing audio cassettes, refer to our How to Fix an Audio Cassette guide.
Broken VHS Tape? No Worries!
For many families, video tapes contain some of the most precious memories they have. Since the advent of the camcorder, millions of people worldwide have been filming important events in their and their family's lives. At some point, many of us have had a tape break, or a VCR eat up their video tape, resulting in a tape that simply won't play normally anymore. At first glance, you may think all hope is lost, and your tape is gone forever…but it's actually very easy to repair video tapes yourself! After reading this guide you will have the knowledge to not only repair VHS tapes, but repair video8 tapes, repair betamax tapes, or even repair MiniDV tapes!
Tools You'll Need
Having worked with large amounts of older media for some time now, I've seen nearly every problem a video tape could have. The most common problem is that the tape simply snaps or breaks in the middle somewhere. For this guide, I will be demonstrating the repair of a VHS tape, which is the most common tape repair I see. To perform your own repair, you will need a phillips-head screwdriver, some splicing tape, scissors, and a steady hand. If splicing tape is hard to come by in your area, it's easy enough to find on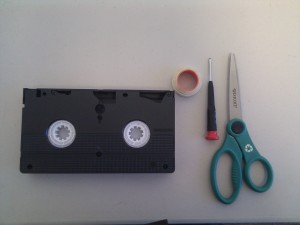 What's Broken in Your Tape?
First inspect the tape, look under the flap, and see if the tape is damaged. If the tape has split, the evidence will be obvious as there would either be a mess of garbled up tape:
or no tape visible under the protective flap: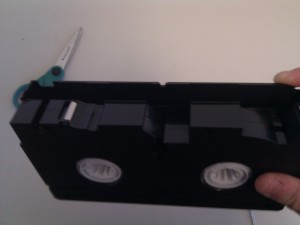 How to Take Your Tape Apart
Once you see that the tape is indeed split, the next step is to open the casing of the VHS up. For this step you will need a standard sized phillips-head screwdriver. The typical VHS cassette contains 5 screws, one at each corner, and one in the middle.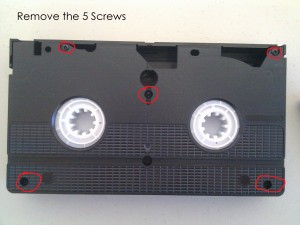 Once you remove all 5 screws, turn the tape OVER, so the front is facing you, and then gently rock the casing back and forth to lift it up from the base, taking care not to disturb the internal components too much. If you labeled your tape with a sticker, it may need to be cut down the middle in order to separate the two halves of the casing.

The casing should now look like what I have in the image below. Take special note of where the internal components are located, in case anything should get bumped loose or knocked out of place. Taking a digital photo of the opened case, or having a diagram will help you with this.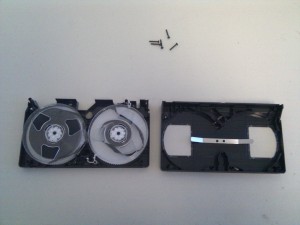 Splicing a Video Tape
The next step is to give yourself enough "clean" tape to work with. If the tape is mangled, it's best to simply remove all portion of tape that has been damaged. That way you're left with nothing but clean undamaged tape. Unwind the tape from the reels a little bit to give you about 6 inches on both sides. You may need to gently lift the reel from the cassette in order to pull some of the tape out. Once you have the two ends of tape, take some scissors, and ensure a clean cut. It's much harder to splice a tape with a frayed or jagged end.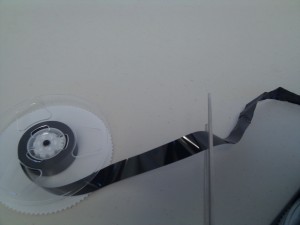 Cut a small strip of splicing tape (scotch tape can and will work, just know that it's much thicker and harder to work with than splicing tape and not advised) Now the trick is to stick both ends of the video tape as flush as possible against the splicing tape, it's best to splice the underside of the videotape, but not essential.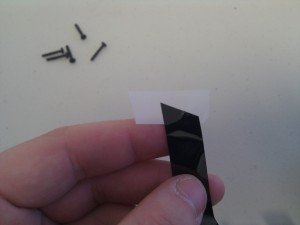 Now your goal is to remove as much of the excess splicing tape as you can without removing the actual video tape. You can use an x-acto knife if you prefer, but I just use scissors. You'll need a pretty steady hand to perform this step successfully. Also, be sure you're not exposing any of the tape's sticky side, as this will gum up tape heads.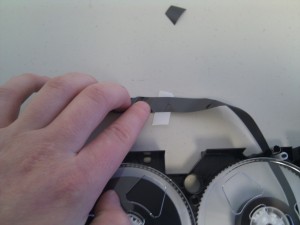 Your video tape should now be all spliced and almost as good as new. Now you need to run the tape through the pinch rollers and wrap it around the top of the cassette. Use the images below as a guide for how the tape runs through.

Putting your VHS Back Together
The last step is to put the casing back together the same way you took it apart. Gently rock the top part of the casing on (You may need to hold the protective flap up as you're fitting it back on) and then screw it back together.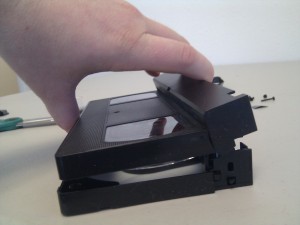 Voila! You have, hopefully, now just repaired your video tape! Remember, if your tape is severely damaged, it's best to bring the repair job to a professional Video Tape Repair Service which has experience with all types of different media, and knows the best way to go about fixing them.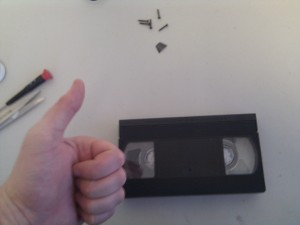 Still need help? Visit our video tape repair page for more information.
Convert your VHS to Digital
Tapes are easy to damage, and often difficult to repair. DVD Your Memories has been providing the best solution to this problem since 2006. We have four locations in Southern California that have been the best in the digital transfer business for nearly 20 years. Our VHS to digital services are consistently the best-reviewed in their respective areas. As of 2016, the production of new VCRs has officially stopped, but digitized tapes don't need a VCR, and they never get damaged.