8mm vs Super 8 Film
Different Film Formats
Both 8mm and Super 8 formats of film look really similar at first glance. That makes it hard to determine whether you've got your hands on either 8mm or Super8. That's especially true if you've got a collection that contains both types of film. However, spotting the difference and recognizing what you have isn't too hard, as long as you know what to look for. In future, you'll be able to easily recognize 8mm vs Super8 after reading this. 16mm should be very easy to recognize, as it'll be twice the width of both 8mm and Super 8. 35mm is equally easy to spot, as it'll be four times the width of those, and twice that of 16mm.
The History of Film Formats
The oldest film that was really standardized was 35mm. William Kennedy Dickson, a photographer for Thomas Edison's company, invented a device that could be used to view film that was 35mm wide. Edison patented and popularized the device, and in so doing standardized 35mm as the film format of the day. 16mm was introduced in 1923 by Kodak to give amateurs an affordable alternative to the expensive 35mm film. Kodak introduced a more affordable still format in 8mm during the Great Depression, for the purposes of making home movies. In the 1960s, Kodak started using cartridge-loaded film in a plastic cylinder to avoid the jamming issues that plagued older formats. With that innovation came the introduction of the even-cheaper Super8 format.
Spotting 8mm vs Super 8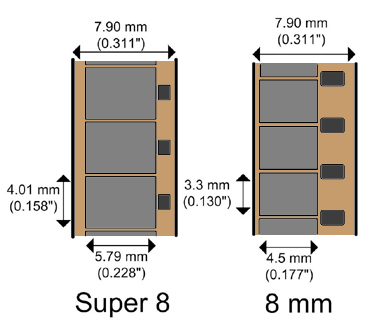 As the above image shows, Super8 film has much smaller sprocket holes. The sprocket holes are the perforations on each side of the film, and they help guide it through the camera from its canister smoothly. If you compare two reels of film and notice one has significantly smaller sprocket holes, that's Super8. The frames are also much larger on Super8 film, hence the name. In short, to spot the difference between 8mm vs Super 8, look for larger sprocket holes and smaller frames. That's the 8mm film. If you've got film in canisters that happens to contain leader tape, you can just look at the size of the sprocket holes on that, too. That'll give you the same result. If you think your film might have sound on it, check out our guide about that here.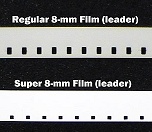 Any Other Questions?
Our film to digital technicians are very knowledgeable and can answer all your questions about your digital transfer. We've been the best film transfer company in Southern California since 2009. We are also one of the few digital transfer companies that clean every inch of your film prior to transferring. This cleaning process using silicone cloths will give you the best digital transfer possible. The older your film is, the more likely it is that it's got dust on it, so especially for older film, cleaning it is a must. Whether it's a 35mm film from the 1920s or a Super 8 film from the 70s that's never left its canister, our process remains the same. Our technicians carefully clean every inch of your film before we transfer any of it. If you want to read more about our preparation process for transferring your film, we've documented it here.