Well a couple days ago, the power went out at our Culver City store for a short while. After some quick investigation, we discovered that not only was our office out of power, but the entire city block was also affected by the outage. While other hundreds of other confused businesses and employees were wondering around and crowding the streets, wondering what to do, our LA team was quick adapt to the situation. We quickly re-routed the phone lines, updated the website, and got everything ready to go. Although there wasn't too much we could do about photo scanning or video to dvd orders, the team decided to stay ahead of the game and started the prep work on future Film to DVD orders. This mainly included cleaning and splicing of 8mm and 16mm film, preparing them for our film transfer process.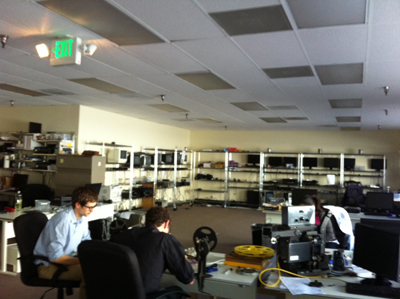 Ryan, Brian and Stephanie working through the power outage, cleaning and splicing film for an 8mm film to DVD Los Angeles order.
All in all, the workflow continues and our customer's orders are right on track!
As you can see, a simple power outage will not impede the workflow of the DVD Your Memories! We will persevere through lack of electricity and finish our transfers, and have fun doing it! Come on down and pay a visit to our Los Angeles store!