Vinyl records certainly were not the most durable forms of media we've ever had, but they sure do sound great when in good condition. Records can suffer from all sorts of deterioration, much of it causing unwanted skipping or audio distortion. Some of these problems can be remedied, while others, are permanent. One of the main problems of older records are that they skip, or have lots of crackling and popping when playing. This is a common problem when attempting to convert records to CD or MP3 files.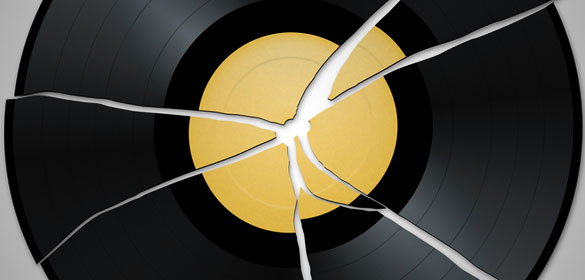 To combat the issue of skipping, you first must figure out the cause of the skip. The cause of record skipping usually boils down to a couple of different types of problems. The first is when there is insufficient pressure on the arm itself, causing the needle to jump to place to place. Back in the old days, a quick fix for this problem was to affix a penny, nickle or other small coin to the top of the arm, where the needle is, in order to add some extra weight and pressure where the needle touches the grooves. However, in the present, most modern turntables have an adjustable knob which will accomplish the same thing, without the need for a coin.
The second issue is when the grooves of the record are damaged or collapsed, which will cause the needle jump forward as soon as it hits the damaged area, or when a foreign object gets lodged in between the grooves, which will also prevent the needle from passing through smoothly, resulting in a loud pop and skipping.
If you found a foreign object blocking the path of the grooves, it must be removed the the record to play properly. To do this, try using something soft, such as a cotton swab to gently lodge it free. If this doesn't work, try moving on to something with more rigidity. Compressed air will also help to dislodge any dirt or dust that may inhabit the grooves.
If you've come to the conclusion that the grooves have been damaged in some way, it can be very tricky to fix. One method is to gently create, or recreate the groove by lightly applying pressure to the needle as it passes over the damaged area. If done properly, this will create a new groove for which the needle to pass through, which should not pop or skip any longer. DJs often use the trick of placing small objects such as coins, nuts or bolts on their headshell, which helps prevent skipping during heavy scratching.
These techniques are especially useful for LP to CD or digitizing vinyl records, especially for rare releases that you can no longer find. Although not all records are in the same shape, these two techniques should help reduce the amount of skipping, cracking and popping that may be present in your records.