Whether you're a music producer, studying in college, or making the next cinematic masterpiece, you're going to need a good audio editor to get you there. In this post, we're going to take a quick look at the top five best audio editing applications and digital audio workstations (DAW) based on nominations from LifeHacker.com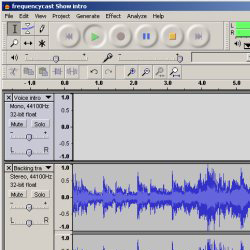 Audacity
Free and open source, Audacity makes audio editing simple and easy for all major platforms. It's not a digital audio workstation necessarily, but if you're a DJ looking to polish a set before publishing to the internet, or if you just want to do some simple noise reduction from your music collection or normalize the volume, Audacity is a very powerful, yet simple tool, which is easy to master and gets the job done quickly. It supports a wide variety of the most common file types, including mp3, OGG, WAV, AIFF, and more. Audacity can also even record live audio for editing and export later, if you computer has a microphone or line-in hooked up. Plus, Audacity's flexible features make it perfect for home projects like basement mixes and fixing up audio from cassette to CD and vinyl to CD transfers. You can read more about Audacity's features here.
---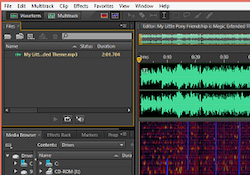 Adobe Audition
Formerly called Cool Edit Pro, Adobe Audition is a powerful set of tools packages into one solid program. It's a powerful suite that makes audio editing and restoration a breeze to do. It's a bit pricier than most audio applications at $349, but packs a host of advanced features and nice looking user interface. Audition supports just about all types of audio formats, and has a ton of built-in bells and whistles to make your audio editing easier and more powerful. To read more about Adobe Auditions features, check them out here.
---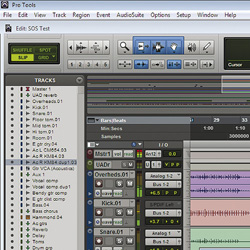 Avid Pro Tools
Avid Pro Tools is more of a digital audio workstation than the previous two, although it can edit existing audio like a professional. Professional musicians use Pro Tools for enhancing and mastering studio recordings and album mixes, DJs use it to correct mistakes in their mixes after the fact, and music producers can assemble entire albums in a fraction of the time required with other tools. All of these features come at a price of $699 for the basic version, but for the money you get an industry-standard, studio-grade tool that supports ANYTHING you send its way, has a wealth of plug-ins to extend its functionality and works seamlessly with studio equipment. You can read more about Avid Pro Tools features here. Amazon also has Avid Pro Tools available for purchase.
[amazon_link id="B006PKIJ16″ target="_blank" ]Click Here to Purchase Avid Pro Tools 10 Student Edition[/amazon_link]
---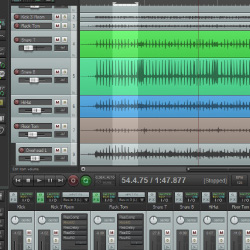 Reaper
Reaper is another digital audio workstation that is praised for its variety of options and deep feature set, and the fact that it's a lightweight application—especially when compared with other audio editing suites with similar features. It offers plugin functionality, which can appeal to a wide variety of musicians. Reaper works just as well if you want to record music from professional gear or an amateur setup too, or if you want to make music entirely with your computer using beat making or music software. Reaper features hundreds of built-in effects and features to make your music really shine, and has a large active community of users to help with support. You can read more about Reaper's features here.
---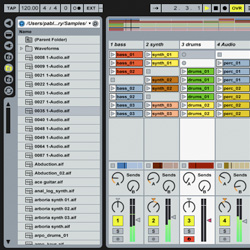 Ableton Live
Ableton Live is about making music; for composition, songwriting, recording, production, remixing and live performance. Live's nonlinear, intuitive flow, alongside powerful real-time editing and flexible performance options, make it a unique studio tool and a favorite with live performers. If you'd rather be "making music" than just "using music software," Ableton Live is for you. Live 8, the latest version, includes a wealth of new techniques and improvements with a new groove engine, revamped warping, live looping, new effects, crossfades in the Arrangement View and a reworked MIDI editor.