Last week we looked at some fun things to make out of video tapes including making a book end, school notebooks, and gift wrap . This week, I'll show you guys another cool household item that can be made from recycled LP vinyl records.
As it turns out vinyl records are pretty flexible, and will easily mold to a variety of shapes with a little heat. With a little creativity you can actually create a wide array of different objects. Today, I will show you how to make a bowl out of a used vinyl record. You can actully create this using your household oven, or even on a really hot day!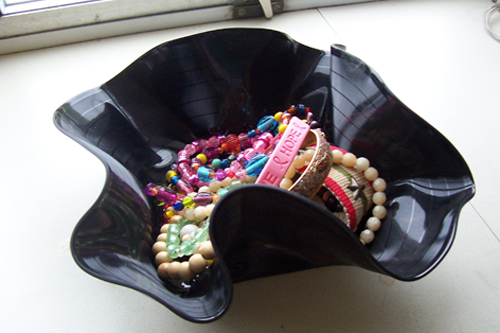 1. The first step is to find a record that you no longer care about, as this process will destroy the sound on your record! If you do happen to like the songs or artist, I would suggest transferring the LP to CD, or transferring the vinyl to MP3 in order to preserve it's contents before creating your bowl. Once you have the album you'd like to make a bowl out of, it's time for step two.
2. For this step, you'll need to pre-heat your oven to around 200 degrees.
3. Once the oven is heated, place a medium sized metal bowl onto a baking sheet and then put the record on top of the bowl. Place the baking sheet with the bowl and record into the oven to heat up.
4. Keep a close watch of the activity inside the oven, as the vinyl will start to flop over and bend after 4-8 minutes of heating.
5. Once you notice that the record is getting pliable, take the whole thing out of the oven (using oven mitts to protect your hands).
6. Once it is out of the oven, you can continue to shape the record either by hand, or use another bowl to help bend it into the desired shape. When you get it into the shape you want, let it sit and cool for 15-20 minutes.
7. Once it's cooled off you can now use your new vinyl bowl to hold your various items! Awesome!