Each month, DVD Your Memories will send our customers a satisfaction survey provided that you have given us your email address. This survey will help us make sure we are providing optimal service, and the that you are getting the products you desire. We're committed to monitoring the quality of the products and services as part of an ongoing improvement process.
When you receive the survey via email, We will ask you a series of questions depending on the type of order you had done with us. It isn't a long survey, and takes about a couple of minutes to complete.
If you have been selected to take part in our satisfaction survey, you will receive an email in your inbox asking you to take part in one of our short surveys. The email will look something like the image below.

Keep in mind that the survey is completely optional, although we would love to hear feedback from you! If you follow the link in the email, you will be taken to the survey page. This page is where you will be answering a short series of questions about your time at DVD Your Memories, and how you liked the product. Be sure to tell us what type of media type you had transferred, such as if it was a video transfer, slide scanning, or a film to DVD order.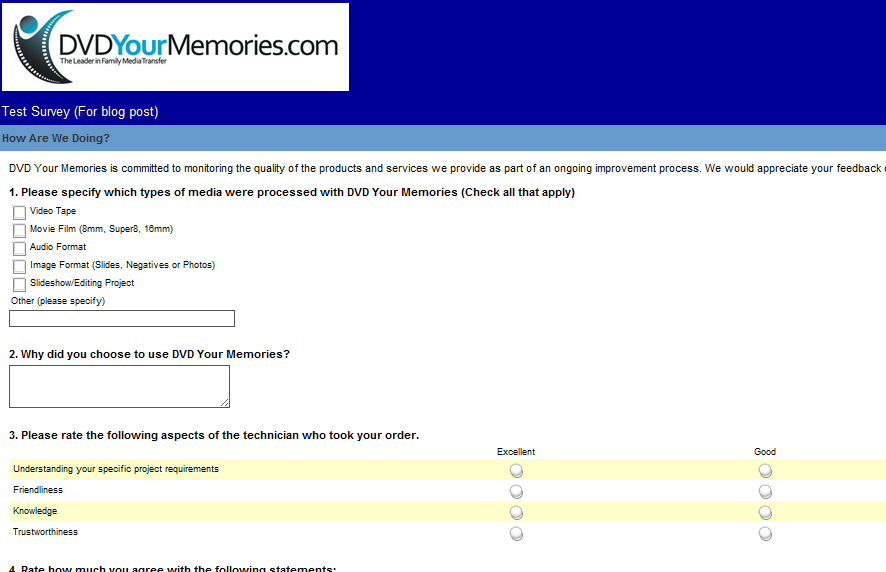 We use the data we receive from surveys to help us improve our systems, techniques and products. We encourage all of our customers to engage in the survey, as it will help us grow and remain the nation's number one local family media transfer company!