When comparing archival grade DVD-R discs, you may have run across Gold Archival DVDs which claim to keep your DVDs safe and stable for a hundred or more years. These gold DVD manufacturers claim superiority over traditional silver alloy DVDs because using gold on the reflective layer (the part which is read by DVD lasers) helps to minimize the degradation of the layer during long-term storage. However, using gold in the reflective layer also comes at the cost of compatibility due to the fact that gold is less reflective than silver.
At DVD Your Memories, instead of gold archival DVDs, we use premium archival Taiyo-Yuden DVD-Rs that are rated for up to 100 years and have one of the highest compatibility ratings in the Industry. Taiyo-Yuden discs use a specially formulated dye which helps against the breakdown of the reflective layers of the DVD, which makes it important for long-term archiving. Other additives are also used for the organic dye for Taiyo Yuden archival grade DVD-R discs. This minimizes decomposition of the organic dye by heat or light during long-term storage. Check out the chart below to see the differences of discs treated with special additives versus those that have not, after stress testing: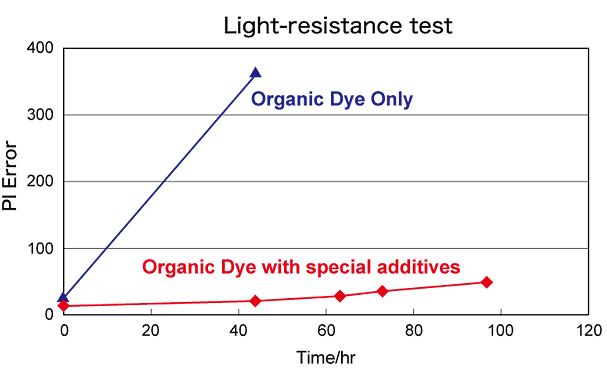 Many media transfer companies still use archival gold reflective discs, not properly understanding the technology involved with disc compatibility in proportion to disc longevity. Premium line JVC Taiyo-Yuden Archival Grade DVDs have the highest compatibility rating in the industry and will also last up to 100 years. Below is a chart showing the error rates difference during extensive disc stress testing: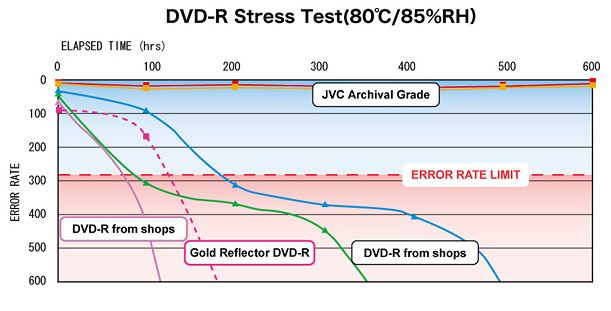 When it comes time to transfer your important family media, such as VHS to DVD or transfer film to DVD, it's best to keep a two things in mind when considering which type of DVD to transfer to. On one hand, it's important to keep your converted media on discs that will stand the test of time, and on the other hand, it's important to make sure they will be compatible with tomorrow's technology.