Many people are starting to realize that the need to transfer their important family memories onto DVD is rapidly approaching. Many people have already transferred their home movies, but unfortunately, they transferred them onto inferior, poor quality discs. As a result of this, some are losing their family memories MUCH sooner than they would have ever thought! If you are planning to transfer important data to DVD, we recommend doing some quick research about the best blank DVDs to transfer your camcorder videos onto.
It's been reported that over half of all media you find in the major retail stores are of inferior quality. Simply buying the 'best' name brand, or most expensive media on the shelf will not always yield high quality discs. With great care, these inferior discs will maybe last you 10 years before the dye and adhesives start to break down, thus ruining the data and rendering the disc unplayable. Due to this reason, it's recommended to use archival media that is rated to last decades with proper care. Purchasing poor-quality discs will, in the long run, only lead to lost time and money.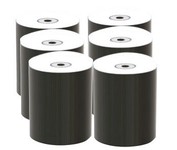 With important data such as home movie transfers or scanned photos, it's best practice to use an archival-grade media to store them onto, as well as an external hard drive. The discs we use to transfer all the media we receive such as slides to DVD, video to DVD, film to DVD, etc. are rated to last over 100 years! This will allow you more than enough time to guarantee your data's safety, and an opportunity to keep that data with you for the rest of your life. The brand we recommend is Taiyo-Yuden, which is manufactured out of Japan. We have found these discs give us the least amount of errors and headaches. There are a couple other great brands such as Verbatim +R/-R discs, Sony DVD+R/-R discs, however, these are getting harder to find.
You may have seen some companies promoting the fact that they transfer media onto "Gold Archival DVDs". There are some facts about the gold DVDs everyone should be aware of. Gold discs have much lower reflectivity than compared to the standard dye DVDs, which causes a lot of disc read and write errors and other compatibility issues to occur. Many of the gold discs we tested had a much lower successful burn rate than compared to the Taiyo-Yuden brand. If you are considering transferring your own media yourself, ensure that the hard work you put into converting everything over to the digital world will not be in vain. Invest the couple extra bucks to get the archival quality media when transferring your video to DVD, that will ensure you never lose a precious memory again!