Have you ever been to Youtube and wanted the ability to save Youtube videos on your computer to view later with no load times?
There are a few great methods to use in order to extract the video from Youtube. The easiest method to save online video is to visit the site https://www.keepvid.com



Once on the site, you will notice a bar at the top where you can input text. What you want to do is find the Youtube video you'd like to save, and copy the URL. For example if the Youtube video you want to save is at: https://www.youtube.com/watch?v=zT1AZE1dpe4
You would type in https://www.youtube.com/watch?v=zT1AZE1dpe4 in the input box. After you type this URL in, click download.



You will be directed to a new page which will ask you if you want to run an applet. Click 'Run' and you will then be provided with a list of all available media to download on that particular page. With Youtube videos you will often see videos of varying quality, so you have a choice of whether to download the low-resolution, or high-resolution videos.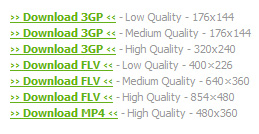 This trick will also work for other popular media sharing sites such as Dailymotion, Metacafe, Google Video etc.