When it comes to scanning oversized photos and prints in a detailed manner, nothing comes close to the Epson 10000XL Wide-Format graphics arts scanner. Although much larger than your typical flatbed scanner, this unit can scan photos and prints sized up to 12.2 by 17.2 inches on one pass! This is great for artists and graphic illustrators who use abnormal medium sizes, but also works wonders for digital transfer and photo scanning companies to accomodate their flatbed scanners with a unit that can scan much larger than the standard 8 by 10 inch photos.
Here are some of the key features of the 10000XL:
2,400 x 4,800 optical resolution, 3.8 Dmax optical density 48-bit color depth, 16-bit grayscale; 50% to 200% zoom A3 sized scanning surface for originals up to 12.2 by 17.2 inches Adobe Photoshop Elements 2.0, MonacoEZcolor with reflective IT8 Target USB 2.0, Firewire, optional networking; PC and Mac compatible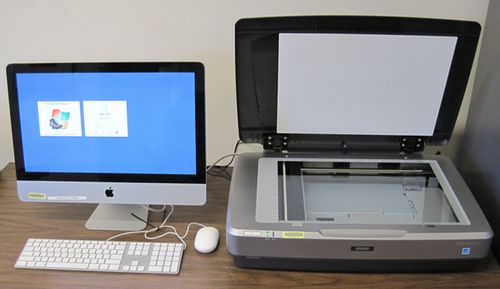 The great thing about this scanner is it's ability to easily stich together multiple large format works. The scanning bed itself is large and the lid lifts up smoothly, and also can be removed and replaced easily. In addition, the scan bed itself is very shallow, unlike many office scanners which have a ledge almost one-half inch deep. This is important in case you want to scan something very large and "stitch" the parts together. When the scan bed is deeply recessed, there is a visible shadow at the edges, which makes it difficult to piece together with other scans.
The bundled software also does a great job at scratch and dust removal and color enhancement. Although we use Adobe Photoshop for our image correction work, we're confident the bundled software contains everything you need to accomplish basic image cleanup, and it's easy to install and learn, too.
This scanner has worked great for DVD Your Memories by allowing us to easily scan LP album art for when we do LP records to CD transfers, scan scrapbooks, yearbooks or other oversized books or volumes. All in all, we highly recommend this scanner, and it's even the same model we use to scan oversized photos and prints at a great resolution in all of our stores.
Looking for more information? Check out the 10000XL on Amazon!