Lately we have been seeing more and more tapes with varying degrees of damage including video tape mold. VHS tapes brought in for our VHS to DVD San Diego transfer service usually contain most of the damage, however Hi-8, Video8, and Digital8 tapes are deteriorating at an alarming rate. Most of the time, tapes can be quickly fixed by replacing the plastic shell or re-splicing broken tape. However, certain elements such as mold can render a tape completely unplayable to the point of never being able to transfer the video to DVD in San Diego, if given the right circumstances.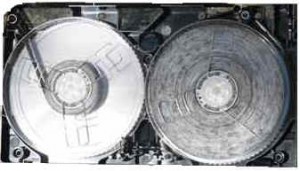 Mold is one of the leading causes of data loss from magnetic tape. Most people are in fact unaware that mold could erase recorded family memories forever. Once mold sets in, it can be extremely difficult and time consuming to remove completely. Mold on your video tapes can best be described as being covered with spots of white powder or fine white dust. If you notice any sort of mold forming on your video or audio tapes, it's best to immediatly quarantine the infected tapes, and extract the data off of the tapes as soon as possible before it's too late. The best way to extract data from the tapes while preventing further deterioration is to transfer the video to dvd or video to hard drive as an .avi or .mov file.
With the proper knowledge and care, it's possible to prevent mold from ever forming in the first place. Besides video transfer in Orange County, the best preservation method of today is to store the tapes in a dry, controlled environment, with minimal light. We have seen too many tapes lost due to mold or other conditions brought about due to poor storage conditions, so double check to make sure your tapes are safe, and convert the video to DVD in order to fully preserve and digitize the data.