U-Matic video tape was one of the first video tape formats to be housed within a cassette, as opposed to the open reel video which was the standard at the time. Conceived by Sony in Japan, U-Matic video tapes were released in the early 1970's. The video tape was 3/4″ in width, which is a tad thicker than the VHS, which is 1/2″ in diameter. In addition of the wider tape, it's write speed was about twice as fast as that of a VHS tape, which provided much higher quality video recordings. Like VHS-C, U-Matic soon released a U-Matic S, which was a smaller, more compact U-Matic cassette. U-Matic tapes were generally used for production studios to archive and maintain the quality of the footage, as they had much higher quality and longevity than the standard VHS tape, and look better than a VHS to DVD transfer.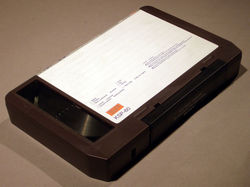 In the early 80's U-Matic broadcast format was slowly starting to be replaced by the new Betacam video tape format, which was then replaced by HDCAM and Digital Betacam, or DigiBeta. The U-Matic format is one of the few older tape formats that has stood the test of time. After nearly four decades after it was first introduced, the U-Matic tape tape format is still used by studios to this day, although used much less nowadays. The United States Congress has a library of thousands of U-Matic tapes archived as a means of proof of copyright, or providing access copies. There are still countless U-Matic tapes in existence that are awaiting a video transfer in San Diego alone. U-Matic tapes today still deliver exceptional quality, and look great after the video transfer to DVD.
DVD Your Memories now offers U-Matic tape transfer services, check it out!
U-Matic to DVD transfer in San Diego