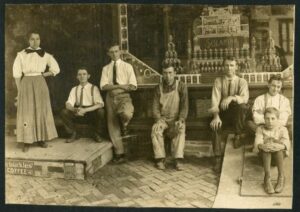 "Oh…this picture here is from our first little store on the main strip in town.  This was when we were first getting started…"
We are in the business of memories.   My friend, the industrial designer Stuart Karten, once told me, "In your business you have to find a way to get as close to the memories as you can." .
I've noticed over the years that some of our client's fondest memories are from the very early years of their lives when they were first starting to get things figured out.  Often amongst the family photos, films, and videos of the Thanksgivings, birthdays, trips to Disneyland, and anniversaries, there are mixed in some items that show the early days of the family business:  the farm, the restaurant, the accounting office, the legal office, the retail store.  Everybody is so young and optimistic.  You can feel the energy in those images, and you can feel the energy in the owner of those images as they describe them and tell you the stories they contain.  The family business was often a center of gravity.  Something that not only provided a living, but also provided meaning beyond that living.   
Now I'm happy to say that we have a book about the founding of THIS business, DVD Your Memories, penned by our founder Chuck Temple.  His book is  Startup to Sold and it launches on March 7.  Not many small businesses have had Inc. Magazine publish a memoir regarding their early years, but Chuck's story is a worthy one.
Startup to Sold relates the entire journey from Chuck's early years earning money hustling for signatures on petitions, selling cars, tutoring autistic children, and eventually working in big box retail before recognizing an opportunity and a need in the market that he was uniquely suited for…all the way through the challenges and successes that came with rapid growth, and finally his successful sale of the business he built.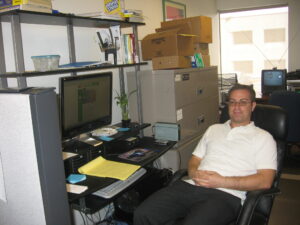 Chuck c. 2006 in the first office of DVD Your Memories
Rare for a business book, he writes with authentic honesty, humility, and vulnerability.
Chuck sold DVD Your Memories to me in 2012 after I retired from a 25 year career in the tech industry.  I looked at over 100 businesses before buying DVD Your Memories, and I can honestly tell you that the only one that was well run was this company Chuck built from the ground up.  
It is a tribute to Chuck and to the values he espouses in his book that many of the key employees he put in place over 10 years ago are still employed at DVD Your Memories today.  It is a further tribute to his process-building skills that many of the processes and systems he put in place to keep things under control are still in place as well.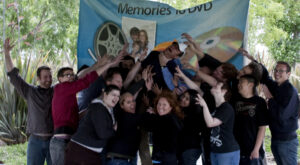 The DVD Your Memories team, c. 2011 (with perhaps a little help from Photoshop!)
If you are thinking about starting a business (or thinking about what to do with a business you already own) you should read this book.  If you are a college age student getting ready to be launched out into the world (or if you know such a person) you should read this book or give that person a copy.  
Chuck's lens is focussed sharply. He  writes in such a personal and specific way about recognizing and confronting obstacles, the value and necessity of hard work, the keys to personal and professional success, the importance of kindness and empathy, and the rewards of persistence.  I guarantee you will learn something, and I guarantee you will be inspired.
More info at: startuptosold.com