How would you feel if every home movie and photograph of your kids, parents, and friends were gone in an instant? How would you ever replace those invaluable memories?
When preparing for the thought of a natural disaster such as a flood, fire, tornado, or hurricane many of us think about those precious belongings we would take with us in the event of an evacuation. And, most of us probably know EXACTLY which boxes of photos, home movies, and other keepsakes we would grab. But, we've all witnessed the devastation that these events can cause, either in our communities or on the news. Even those that make painstaking plans to protect their families and their prized possessions are often left with little time to gather ANY belongings, much less their important family media.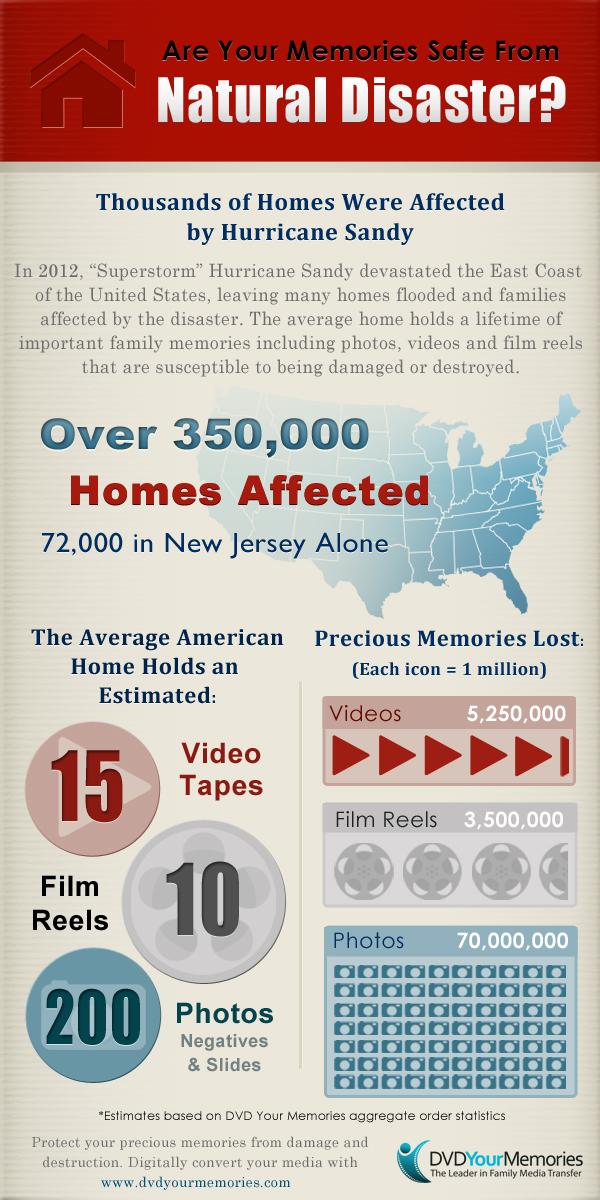 Learn how to protect your precious memories now – FREE Project Consultation
Most of us were enraptured with the Hurricane Sandy coverage we saw, this past October; nearly 150 individuals lost their lives and millions were affected. The devastation was unprecedented and the financial losses surpassed $70 Billion. But, not included in that financial figure are the priceless items that were also lost – precious memories of times past, family histories, invaluable video of a child's first steps or a collection of wedding or anniversary pictures. And, unfortunately, these are often those things that you can't take with you when these tragic events occur.
And while there is little you can do to prevent the next hurricane or tornado, there are many things you can do to protect your precious family memories.
The best way to preserve and prevent your old media from the effects of a natural disaster is to digitize and archive them, electronically. Video tapes, photographs, slides, negatives, film and audio can all be converted to a variety of digital formats that can be stored on modern devices such as smartphones, thumb-drives, hard-drives, CD/DVDs or as digital files that you can store as data online or "in the cloud". Instead of trying to catalog and salvage your hundreds or thousands of photographs and home movies, you can keep your entire photo and video collection safeguarded on something as small as a USB thumb-drive or a DVD. Converting your media is a simple, cost-effective way to ensure that in the event the original copies are destroyed or lost, your family can continue to cherish these for generations to come.
How many of those invaluable moments in time were lost? We've prepared a free infographic, or graphical representation of how significant this overlooked piece of emotional impact may have been.
RIGHT NOW is always an appropriate time to ask your family and yourself, "Are our memories safe from natural disasters?"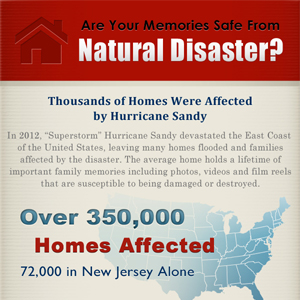 Use This Hurricane Sandy Infographic for FREE on Your Site!
You may use the infographic above on your website, however, the license we grant to you requires that you properly and correctly attribute the work to us with a link back to our website by using the following embed code:
<a href="https://dvdyourmemories.com/wp-content/uploads/2013/03/free-hurricane-sandy-infographic.jpg" />
<img src="https://dvdyourmemories.com/wp-content/uploads/2013/03/free-hurricane-sandy-infographic-thumb.jpg"alt="Hurricane Sandy Infographic" /></a><br/> <p>Infographic authored by DVD Your Memories, a <a href="https://dvdyourmemories.com">Family Media Transfer</a> Company. To view the original post, see the original<a href="https://dvdyourmemories.com/blog/memories-safe-free-infographic-hurricane-sandy/">Hurricane Sandy infographic</a>.</p>