Before converting your whole entire collection of video tapes to DVD, there's actually a few things to think about. With all of the different options available, you'll want to make sure you get all of the specifications you're looking for prior to bringing in your video tape transfer. These are just some points to think about, as not everyone is aware of all of the different possibilities when it comes to VHS to DVD transfers.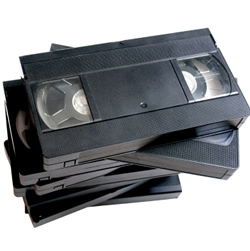 Combine multiple video tapes onto one DVD
This is a popular request, especially for people with many tapes of varying short lengths. When we combine your tapes onto a single disc, keep in mind that we can only fit 2 hours onto a disc, so you're videos will need to be within that time frame in order for them to all fit on the disc. This option is great for short tapes such as VHS-C and MiniDV, where often times we can fit two or more tapes onto a single disc. We can even also fit video tapes of different types onto the same disc, so you'll be able to combine a MiniDV tape with a VHS tape, for instance. Each video will also be it's own independent chapter for easy navigation from the menus.
Chapter Markers
By default, chapter markers are inserted every 10 minutes. Chapter markers are useful because they are similar to scenes in that if you hit the "next chapter" button on your DVD player's remote, it will skip ahead to the next scene, or chapter. We can also provide custom chapter markers to your videos if you'd like. To make things easier, it's best to map out exactly what time frames you'd like your markers to be inserted. You can review the tapes at home, or make an appointment to come view them at one of our local offices.
Color Correction
Has the color of your tapes faded over the years? We can help bring back some of the vibrancy of your tapes by running it through our video filters. This will help offset the color deterioration, and improve the colors of your video. Please ask our video tape technicians for more information about color correction.
Video Tape Editing
In addition to transferring your tapes as-is, we can also provide a wide range of editing services to your videos. Blank footage is automatically removed from your DVDs, and you're only charged for the footage on your tape that you want to keep. No editing job is too big or too small. Jobs range from removing commercials from your favorite television program, or producing a featured clip on television. If you need lots of editing done, you'll actually need to transfer your video to a hard drive first, so that we can edit the video from one of our computers. Editing video from a DVD is not a good idea, because you'll be working with compressed video, while transferring to your hard drive will allow you to edit the video in it's full quality.