Photobooks are becomming more and more popular as a way to tell a story with your photos, rather than just have them in an album. Photobooks are often described as similar to scrapbooks, the main difference being that the photobooks are actually printed, rather than having clippings and photos glued or tacked to the page itself.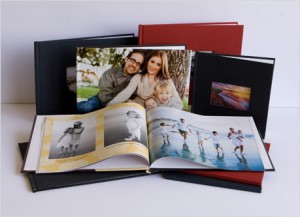 The benefits of a photobook allows the creator to print a large number of books at a much cheaper cost than building them all by hand as you would with a scrapbook.
Photobooks have been very popular with weddings, graduations, and babies.
To create your very own photobook, you first must have all of your photos in a digital format. This means that for all of your loose photos, you must have them scanned into a computer so that you can maniplulate the image digitally to fit the book. DVD Your Memories specializes in photo scanning using the best quality flatbed scanners available today… and we scan them all by hand!
Now, once your photos are digitized, you'll need to find the photobook service you'd like to use. There are now quite a few services, but I'll go over a couple of the more popular photobook services.


Shutterfly
Shutterfly is an image publishing service headquartered in Redwood City, CA. The company was founded in 1999, and focuses on its primary product and service which is photobooks. In addition to photobooks, they also can produce other products including stationery, greeting cards and custom smartphone/tablet cases.
Start by uploading your photos into your own online gallery and use one of 270+ pre-existing template layouts with more than 100 themes, or completely design your own creation! Shutterfly is easy to use, and has great prices thanks to online coupons and promotions year round. As for photobooks, Shutterfly offers 26 different sizes ranging from 7×5 to 12×12.


Mixbook
Mixbook is a newer photobook service that offers greetings cards and calendars in addtion to their photobook line. One great thing about Mixbook is that it has an import utility that can import your photos from a variety of online sources such as Facebook, Photobucket, Picasa and more. This allows you to save a ton of time by not having to manually upload each and every photo individually.